AU-IBAR Strategic Plan 2010-2014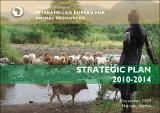 View/Open
(en=English; ar=Arabic; fr=French; pt=Portuguese)
Date
2009

Authors

African Union Inter-African Bureau for Animal Resources

AU-IBAR
Abstract
The Plan highlights six interconnected and complementary strategic areas, referred to as 'programmes', to drive the continents animal resources agenda from 2010-2014.
These include:
1. Reducing the impact of transboundary animal diseases and zoonoses on livelihoods and public health in Africa.
2. Enhancing Africa's capacity to conserve and sustainably use its animal resources and their natural resource base.
3. Improving investment opportunities and competitiveness of animal resources in Africa
4. Promoting development of, and compliance with, standards and regulations.
5. Improving knowledge management in animal resources to facilitate informed and timely decision-making.
6. Facilitating development of policies and institutional capacities for improved utilization of animal resources in Africa.
Extent
75 pages
ISBN
978-9966-7456-0-6