Manuel de procedures administratives budgetaires, financieres et comptables - version finale.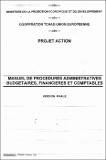 View/Open
(en=English; ar=Arabic; fr=French; pt=Portuguese)
Author
African Union Inter-African Bureau for Animal Resources
Contributor
Consultant : Cheikh Oumar Tall
Abstract
The design of this manual of procedures falls within the framework of the re-execution of the second phase of contract n ° 942 / PAON / FED / 99 of April 15, 1999, which binds us to the Chadian administration and to the Delegation of the European Commission. . We recall that (the subject of our contract is the assurance of technical assistance within the framework of 86 EDFs, with a view to setting up structures responsible for supporting the National Authorizing Officer, for the exercise, in the best conditions, of all the tasks assigned to it under the Lome IV Convention.
Country/Partner State
CHAD
Sponsors/Funders/Partners
MINISTRY OF ECONOMIC PROMOTION AND DEVELOPMENT - CHAD-EUROPEAN UNION COOPERATION