Speech of the Acting Director AU-IBAR Parliamentary Agricultural Committee Consultative Workshop on the Dairy Industry Bill, the Livestock Bill, the Livestock Master Plan and Livestock Identification and Traceability Regulations 2021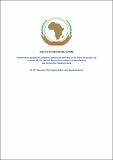 View/Open
(en=English; ar=Arabic; fr=French; pt=Portuguese)
Date
2021-12-13

Authors

AU-IBAR

Nwankpa, Nick (Dr.)
Abstract
Speech of the AU-IBAR Director, Dr. Nick Nwankpa, during Parliamentary Agricultural Committee Consultative Workshop on the Dairy Industry Bill, the Livestock Bill, the Livestock Master Plan and Livestock Identification and Traceability Regulations 2021. Workshop was held from 13-18 December, 2021 in Mombasa, Kenya.
Extent
4 pages
Country/Partner State
KENYA
Sponsors/Funders/Partners
European Union
Collections
Related items
Showing items related by title, author, creator and subject.
AU-IBAR, Ministry of Agriculture, Livestock, Fisheries and Cooperatives State Department of Livestock

(

2019-06-01

)

This catalogue provides consolidated information on livestock diversity available in Kenya, including their distribution, utilization, current status and associated risks.

African Union Inter-African Bureau for Animal Resources

;

AU-IBAR

;

Department of Rural Economy and Agriculture

;

... (4 authors)

(

2015

)

The "Livestock Development Strategy for Africa (LiDeSA) 2015–2035 seeks to transform the African livestock sector for accelerated and equitable growth. The strategy aims at addressing identified barriers in the sector ...

Ian Scoones

;

William Wolmer

For many years African livestock production was seen as a poor investment for development. Assumptions about low productivity, 'backward' management systems, lack of market orientation and poor growth potentials consigned ...