Speech of the Acting Director AU-IBAR Parliamentary Agricultural Committee Consultative Workshop on the Dairy Industry Bill, the Livestock Bill, the Livestock Master Plan and Livestock Identification and Traceability Regulations 2021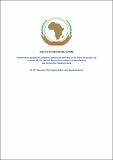 View/Open
(en=English; ar=Arabic; fr=French; pt=Portuguese)
Date
2021-12-13

Authors

AU-IBAR

Nwankpa, Nick (Dr.)
Abstract
Speech of the AU-IBAR Director, Dr. Nick Nwankpa, during Parliamentary Agricultural Committee Consultative Workshop on the Dairy Industry Bill, the Livestock Bill, the Livestock Master Plan and Livestock Identification and Traceability Regulations 2021. Workshop was held from 13-18 December, 2021 in Mombasa, Kenya.
Extent
4 pages
Country/Partner State
KENYA
Sponsors/Funders/Partners
European Union
Collections
Related items
Showing items related by title, author, creator and subject.
AU-IBAR, Ministry of Agriculture, Livestock, Fisheries and Cooperatives State Department of Livestock

(

2019-06-01

)

This catalogue provides consolidated information on livestock diversity available in Kenya, including their distribution, utilization, current status and associated risks.

Communique on Regional workshop on capacity building on the guidelines to strengthen inclusion of livestock in the R/NAIPS and the initial Livestock sector review of the ECCAS CAP and PRIASAN. The meeting was held from ...

Djemali, M'Naouer

;

AU-IBAR

(

2020

)

Assessment of the National Breeding Objectives and Implementation of Supporting Programs/Initiatives for Dairy Livestock Value Chains, DLVCs, in North Africa (Algeria, Egypt, Mauritania, Morocco, and Tunisia).