Harmonised regional biodiversity framework and joint action plan for conservation of aquatic biodiversity and environmental protection in transboundary marine ecosystems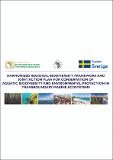 Date
2023
Abstract
Harmonised regional biodiversity framework and joint action plan for conservation of aquatic biodiversity and environmental protection in transboundary marine ecosystems
Description
The consultancy was undertaken by Dr. Hashali Hamukuaya, who prepared the report on harmonised regional biodiversity framework and joint action plan for conservation of aquatic biodiversity and environmental protection in transboundary marine ecosystems. Several stakeholders (AU member states, REC, specialized regional institutions, Centres of Excellence, partners, NSAs and experts also contributed immensely to improving the quality of this report during the continental stakeholders' validation workshop.
Extent
36 Pages
Sponsors/Funders/Partners
Swedish International Development cooperation Agency (SIDA)
Collections
Related items
Showing items related by title, author, creator and subject.
Asmah, Ruby

;

Seisay, Mohamed - Editor

;

Mokenye, Joel

;

... (5 authors)

(

2023

)

The study involved a general overview of transboundary freshwater bodies in Africa to identify critical aquatic environmental issues affecting biodiversity. This was achieved through literature search and stakeholder ...

Communique on the Inception Workshop to launch the Project on 'Conserving Aquatic Biodiversity in African Blue Economy'. The lunch was held to create awareness amongst the potential beneficiaries and stakeholders of the ...

AU-IBAR

;

Brandolini, Giorgio

(

2022

)

The publication highlights the impact of climate change on the aquatic ecosystems and biodiversity and proposal of mitigation measures analyses the impact of climate change on the aquatic ecosystems and biodiversity, the ...