Compendium of Technologies and Innovations applied in Priority Livestock Value Chains in Africa
| | | |
| --- | --- | --- |
| dc.contributor.author | Mbole-Kariuki, Mary | |
| dc.contributor.author | Anne W., Muigia | |
| dc.contributor.author | AU-IBAR | |
| dc.contributor.editor | Elizabeth, Obel-Lawson | |
| dc.date.accessioned | 2023-05-16T08:59:43Z | |
| dc.date.available | 2023-05-16T08:59:43Z | |
| dc.date.issued | 2022-12-01 | |
| dc.identifier.citation | AU-IBAR, 2022: Compendium of Technologies and Innovations applied in Priority Livestock Value Chains in Africa: Technologically advancing livestock food systems for prosperity and posterity. AUIBAR Publication. | en |
| dc.identifier.isbn | 978-9966-077-44-8 | |
| dc.identifier.uri | http://repository.au-ibar.org/handle/123456789/1414 | |
| dc.description | The knowledge published herein is a rich and useful resource to a wide audience including researchers, extension workers, students, policy makers and development practitioners. It is our hope that the untapped opportunities for Africa's development through livestock resources will be unlocked. | en |
| dc.description.abstract | The Compendium of Technologies and Innovations applied in Priority Livestock Value Chains in Africa, the African Union project on Sustainable Development of Livestock for Livelihoods in Africa (Live2Africa) has documented an average of 120 key innovations and technologies existing across priority livestock value chains in Africa. The Compendium is a valuable practical tool that draws on information supplied by all livestock value chain stakeholders drawn from the five African regions. The book aims at guiding national governments and livestock producers on a range of existing and emerging livestock technologies with special focus on their climate-smartness, environmental friendliness and gender inclusivity. | en |
| dc.description.sponsorship | European Union | en |
| dc.format.extent | 305 pages | en |
| dc.language.iso | en | en |
| dc.publisher | AU-IBAR | en |
| dc.subject | Technologies | en |
| dc.subject | Innovations | |
| dc.subject | Livestock Value Chains | |
| dc.subject | Livestock Food Systems | |
| dc.subject | Live2Africa | |
| dc.title | Compendium of Technologies and Innovations applied in Priority Livestock Value Chains in Africa | en |
| dc.title.alternative | Technologically advancing livestock food systems for prosperity and posterity | en |
| dc.type | Book | en |
| au.identifier.reference | | |

Files in this item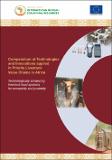 Name:

Compendium of Technologies and ...

Size:

53.01Mb

Format:

PDF

Description:

The knowledge published herein ...
This item appears in the following Collection(s)
Livestock Development [90]
This collection provides information on work that is being rendered towards the implementation of the Livestock Development Strategy for Africa (LIDeSA) - A 20 years (2015-2035) strategy geared towards addressing Africa's development needs and challenges. The strategy is aligned to the ongoing regional strategies, policy frameworks and guidelines; and is coherent with the Comprehensive Africa Agriculture Development Programme (CAADP), Frameworks and Agenda at the Continental, Regional Economic Community (REC) and Member States (MS) levels. The LiDeSA embraces "business unusual" approaches and focuses on encouraging increased investments from both public and private sources for the transformation of the sector to enhance its contribution to socio-economic development and equitable growth.