5th Africa Animal Welfare Conference - Action 2021
| | | |
| --- | --- | --- |
| dc.contributor.author | UN Environment | |
| dc.contributor.author | AU-IBAR | |
| dc.date.accessioned | 2022-03-30T05:42:08Z | |
| dc.date.available | 2022-03-30T05:42:08Z | |
| dc.date.issued | 2021 | |
| dc.identifier.uri | http://repository.au-ibar.org/handle/123456789/1217 | |
| dc.description.abstract | Conference Report of the 5th Africa Animal Welfare Conference held from 1-3 November 2021, in Ghana, under the theme: One Health, One Welfare - For a Better and Greener Tomorrow. | en |
| dc.format.extent | 81 pages | en |
| dc.language.iso | en | en |
| dc.publisher | Africa Network for Animal Welfare | en |
| dc.subject | Animal Welfare | en |
| dc.title | 5th Africa Animal Welfare Conference - Action 2021 | en |
| dc.title.alternative | Theme: One Health, One Welfare - For a Better and Greener Tomorrow | en |
| dc.type | Conference | en |

Files in this item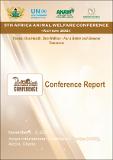 Name:

5th_Africa_Animal_Welfare_Conf ...

Size:

4.547Mb

Format:

PDF

Description:

5th Africa Animal Welfare ...
This item appears in the following Collection(s)
Livestock Development & Animal Welfare [90]
This collection provides information on work that is being rendered towards the implementation of the Livestock Development Strategy for Africa (LIDeSA) - A 20 years (2015-2035) strategy geared towards addressing Africa's development needs and challenges. The strategy is aligned to the ongoing regional strategies, policy frameworks and guidelines; and is coherent with the Comprehensive Africa Agriculture Development Programme (CAADP), Frameworks and Agenda at the Continental, Regional Economic Community (REC) and Member States (MS) levels. The LiDeSA embraces "business unusual" approaches and focuses on encouraging increased investments from both public and private sources for the transformation of the sector to enhance its contribution to socio-economic development and equitable growth.