Pan-African Programme for the Control of Epizootic Diseases (Pace) Mid-Term Review Agreement No 6125/REG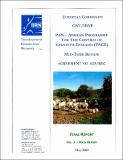 Date
2003-05

Authors

OAU/IBAR

European Commission
Abstract
The report presents the findings of the mid-term review (MTR) of PACE, the Pan African Programme for the Control of Epizootic Diseases. The MTR was undertaken in October-November of 2002 by a team assembled by Development Researchers' Network of Rome, Italy, joined by a member of the mid-term review team of CAPE, sponsored by DFID. Members of the review team visited a total of seven countries including the host countries Kenya and Mali and presented a mission memorandum with provisional findings and recommendations on 20th November 2002.
Description
Final Report Vol. I - Main Report May 2003
Sponsors/Funders/Partners
This report has been realised with the financial assistance of the European Commission. The conclusions contained in this report are those of the authors, and do not necessarily reflect the views of the European Commission or of the OAU/IBAR.