Fisheries, Aquaculture, Blue Economy and Aquatic Biodiversity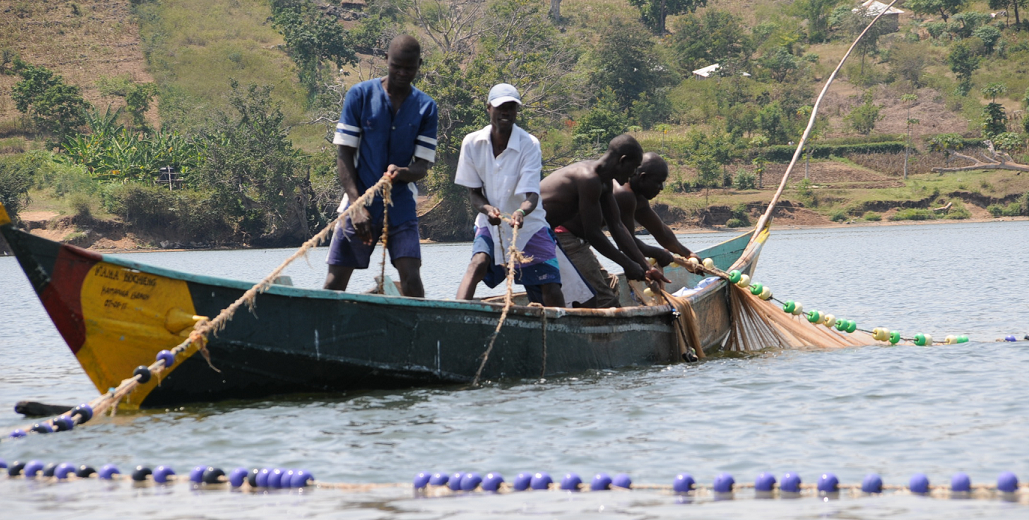 AU-IBAR, under the auspices of the African Union, and in partnership with a number of stakeholders (e.g. AUDA NEPAD), with financial support from the European Union, the Kingdom of Norway, and the Swedish International Development Cooperation Agency (SIDA), is contributing to the development of the largest sectors of the current African aquatic and ocean based economy – namely: fisheries, aquaculture, tourism, transport, ports, coastal mining, energy and the blue economy. The Blue Economy plays a major role in Africa's structural transformation, sustainable economic progress, and social development. This collection stores publications generated from the various Fisheries, Aquaculture and Blue Economy initiatives and projects over the years.
Recent Submissions
The publication highlights the impact of climate change on the aquatic ecosystems and biodiversity and proposal of mitigation measures analyses the impact of climate change on the aquatic ecosystems and biodiversity, the ...

This Policy Brief is a consolidation of outcomes of the deliberations by the stakeholders at the inaugural meeting of the revised African Fisheries Reform Mechanism (AFRM) Think Tanks Executive Committee, held in Abidjan, ...

The advocacy note argues in favour of the creation of a climate change mitigation effort that incorporates the involvement of stakeholders at the local, national, sub-regional, and regional levels in order to maximise the ...

This Policy Brief is the consolidation of the outcomes of the deliberations of the African Fisheries Reform Mechanism (AFRM) Working Groups and the Think Tank Executive Committee inaugural meetings and workshops organized ...

Welcome remarks by the Director of AU-IBAR expert consultative workshop on gender mainstreaming in aquatic biodiversity conservation and environmental management in Africa. Speech made by Mrs. Patricia Lumba on behalf of ...

Opening remarks given by Ms. Francisca Gonah, on behalf of AU-IBAR Director during the opening of the Consultative workshop to validate the functional review and rationalization of fisheries and aquaculture platforms and ...

Working Paper on Business model development and enhancing extension service in Africa aquaculture. This Working Paper is a synthesis of series of reports based on activities implemented by AU-IBAR under the project ...

Policy brief on Priorities for strengthening regional cooperation in monitoring, control and surveillance for effective and strategic combat of Illegal, Unreported and Unregulated (IUU) fishing in Africa. This Policy ...

AU-IBAR, 2018. NOTE DE PLAIDOYER : Renforcement des capacités en vue d'une participation efficace de l'Afrique aux organisations régionales de gestion des pêches (ORGP)

The implementation of BMUs in both the lake and on the coast over the past two decades has provided a number of lessons which if addressed would strengthen BMUs as an effective tool in fisheries management. Beach Management ...

This advocacy note looks at enhancing regional cooperation in Fisheries Access Agreement (FAA) for Shared Fish Stocks. The potential of the fisheries sector to contribute to poverty reduction and improved socio-economic ...

Les États membres de l'UA doivent s'efforcer de disposer d'un cadre juridique national exhaustif et actualisé pour la gestion des pêches et de l'aquaculture, fondé sur des principes et des mesures convenus aux niveaux ...

This advocacy note highlights how AU-MS should strive to have a comprehensive updated domestic legal framework for the management of fisheries and aquaculture based on globally- and regionally-agreed principles and measures ...

La note d'orientation porte sur les pratiques de cogestion dans la pêche artisanale : le cas de la gestion des plages Unités (BMUS) en Afrique de l'Est

Cette note de plaidoyer porte sur le renforcement de la coopération régionale dans le cadre de l'accord d'accès à la pêche (FAA) pour les stocks de poissons partagés.

This paper has been prepared within the broader objectives of the Policy Framework and Reform Strategy for fisheries and aquaculture in Africa and the 2014 Malabo Declaration with specific regards to food security, livelihoods ...

This policy brief is a synthesis of the findings of the scoping missions conducted by AU-IBAR under the EU funded project 'Strengthening institutional capacity to enhance governance of the fisheries sector in Africa'. The ...

The African Union Inter-African Bureau for Animal resources (AU-IBAR) sought for a consultancy to identify policy intervention entry points to strengthen the capacity of fisheries communities for adaptation to climate change. ...

Opening address by Director, AU-IBAR during the training workshop on strengthening capacity for ocean governance and negotiating fair and sustainable fisheries access arrangements in Africa. Training was hosted by University ...